A Cathartic Post About "Good Will Hunting"
It is not a good day.  So, I am taking a minute to do a little cathartic writing. I hope it helps.
This week I have made a few comments online about Robin Williams. I posted a couple of his quotes from the film Good Will Hunting.
I tweeted this: "… Unless you want to talk about you; who you are… Then I am fascinated. I'm in."
And this: "It's not your fault…" (an idea all by itself that I need to be reminded of everyday, since I am so haunted by shame.)
I also tweeted this thought: At 7 I met Mork. At 9 Popeye. Good Will Hunting saved my heart in the worst yr of my life. Goodbye Robin.
I have received several comments/questions about these short posts, particularly that last line… and so I thought I would take a minute to tell the story behind what I wrote.
I have written about this at some length and go even deeper in my next book, "Aloof", but no where have I ever told the Good Will Hunting part of my story.
1998. It was the middle of the most horror-show part of my story: alone, scared, stressed, in pain, compensating, performance driven, perpetual-failure, shame and rejection… these things filled the inner-dialogue of my every day (sorry to be so dramatic, but this is supposed to be "cathartic." Remember?)
I was living in Macedonia. I was at the end of a decade-long run of missions on three continents. I was exhausted and all my pathologies had come out to play.
Into my internal chaos walked Dale McFerron. He had been one of my closest friends over that same decade and was, at the time, fatefully living just two countries away in Ljubljana, Slovenia. He invited me up for a couple days of rest and I thankfully received his invitation.
On our first evening, Dale made one of his notoriously hyperbolic statements. "Tony, I just saw your new all-time-favorite movie and I am taking you to see it tonight." And that is just what he did. He drug me downtown, plopped me in a seat (third of the way down, aisle seat of the center section) and for the next 126 minutes I found myself enveloped in the warm, reassuring and challenging narrative that, among other things, reminded me time and time again that, "It's not your fault."
The film was, of course, the instant personal classic, Good Will Hunting.
After my weekend visit with Dale, I returned to Macedonia to discover that my new cinematic friend had followed me home. There were four movie screens around Skopje, Macedonia at the time and the one closest to my flat was newly showing: Dobriot Vil Hunteeng.
I went to watch it again that very night and three more times over the next few days. That theater became my evening home two to four days a week for the run of the film. I watched it well over a dozen times… alone in the dark… seeped in sorrow.
Why? Why did this film strike such a chord in my heart? Well, it is hard to say, but it did. It struck that chord so hard that I feared that the strings of my heart might break under the reverberations…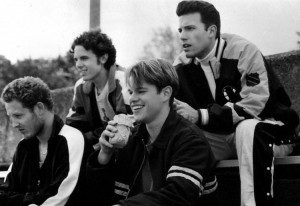 They resonated with…
the violent loyalty found among childhood friends.
the scandalous affection of Chucky for his best friend, Will. "You know the best part of my day?…"
the overwhelming broken heart of Sean over losing his life's love. "You don't know what it is like to look at a woman and be completely vulnerable."
the illusion of confidence, competence and courage… all of which was nothing more than a compensation for an unending spring of sorrow in Will's soul.
Sean's patient affection for Will. "He sat there for an hour and never said a word. Pretty impressive."
Sean's slicing affection. "You're just a kid. You don't have the faintest idea what you are talking about."
even the lasting struggle of friendship between Sean and Prof. Lambeau.
In the end, I think it was the closing sequence that helped me believe I could survive, that I could muster the strength to get out of bed one more time and breathe in and out all day
long. Again, I can't really explain it, but the sight of Will's car driving away down the highway (even though I am sitting in a busy pub right now, writing that last phrase shoved an audible sob from within me); that car somehow meant that there was something… else. Something beyond my chaos… the current reality of my own creation.
In the tweet above I said, "Good Will Hunting saved my heart", but truth be told, I have wondered, on many occasions, if it provided a pause and that pause, on some level, saved my life.
So, to Matt, Ben and, in this particularly aching season, thanks to Robin, for the film that has most impacted my life in my two score plus years.
And yes, Dale, even fifteen years later, it is still my all-time-favorite film. You are right again.